Stevie Nicks Fashion Style
STEVIE NICKS is the consummate tease. Fanning out her arms, which are veiled, as always, in chiffon, she seems about to fold her audience into an embrace. Yet when she turns away, raising those arms in a priestesslike gesture, that fabric acts as a curtain, shielding her from prying eyes.
Her audience last month at Madison Square Garden, where Ms. Nicks sang with
, was clearly seduced by her come-hither/keep-back performance. Aging hippies and youthful rockers swayed and twirled in the aisles, their faces upturned to watch her shake her tambourine.
Her stylistic persona is as rock steady as her sound. Part healer, part sorceress, at 60 she is still working the gossamer tunics and shawls that have influenced two generations of Stevie acolytes, and given her performances the feel of a ritual. Now, as if timed to the vernal equinox, Ms. Nicks has resurfaced with two new DVDs
Stevie Nicks Fashion Style
Stevie Nicks Fashion Style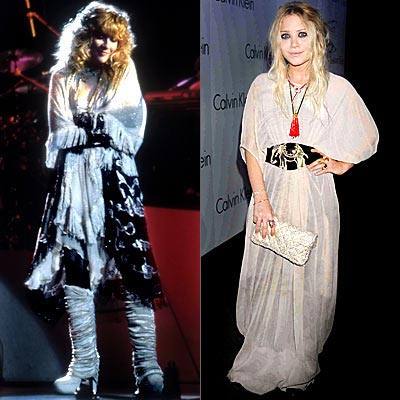 Stevie Nicks Fashion Style
Stevie Nicks Fashion Style
Stevie Nicks Fashion Style
Stevie Nicks Fashion Style
Stevie Nicks Fashion Style
Stevie Nicks Fashion Style
Stevie Nicks Fashion Style
Stevie Nicks Fashion Style
Stevie Nicks Fashion Style
Stevie Nicks Fashion Style
Stevie Nicks Fashion Style